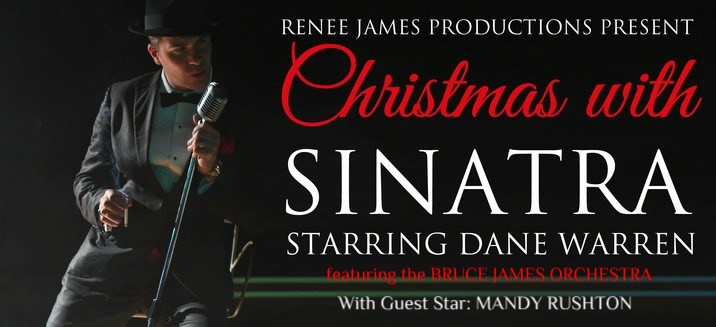 Renee James Productions Int'l presents the 2019 Live Tour: CHRISTMAS WITH SINATRA
After a very successful 3-city tour last holiday season on Vancouver Island of the same name with a 5 piece band, Christmas with Sinatra – headlined by Vancouver's own Dane Warren– is coming to the Lower Mainland and Fraser Valley this December holiday season!
With a successful island tour in hand, this season of Christmas with Sinatra is going to be bolder, brassier and even bigger this year – in large part to having the power-house Big Band – the Bruce James Orchestra – providing the musical backdrop to Christmas and Crooner classics alike. Couple Dane Warren – hailed as Vancouver's top Frank Sinatra Tribute Artist, the 17-piece Bruce James Orchestra with the sultry (and sometimes sassy) vocals of guest star Mandy Rushton, Christmas with Sinatra will be the musical highlight of the 2019 holiday season!
When? This coming December 2019 at a theatre near you! Dec,8 13, 15, 17 & 18!
Where?
Sun, Dec 8 West Vancouver @ Kay Meek Centre 8pm
Fri, Dec 13 New Westminster @ The Massey Theatre 8pm
Sun, Dec 15 Vancouver @ Hungarian Cultural Centre
Tues, Dec 17 Abbottsford @ Matsqui Centennial Theatre 8pm
Wed, Dec 18 Mission – Clark Foundation Theatre at UFV – 8pm              Tickets: https://www.eventbrite.ca/e/christmas-with-sinatra-mission-tickets-62527738148
Why? Everyone deserves the chance to dress up, unwind, celebrate life, love and brassy big band sounds with a holiday flair.
How? Book your holiday party or family experience now! Limited VIP tickets are still available.
WE LOOK FORWARD TO CELEBRATING THE SEASON WITH YOU!