Sweet five-part saxomaphone harmonies! Listen to those lush Big Band chords!
Bryan Vance: Alto Sax I – Section Leader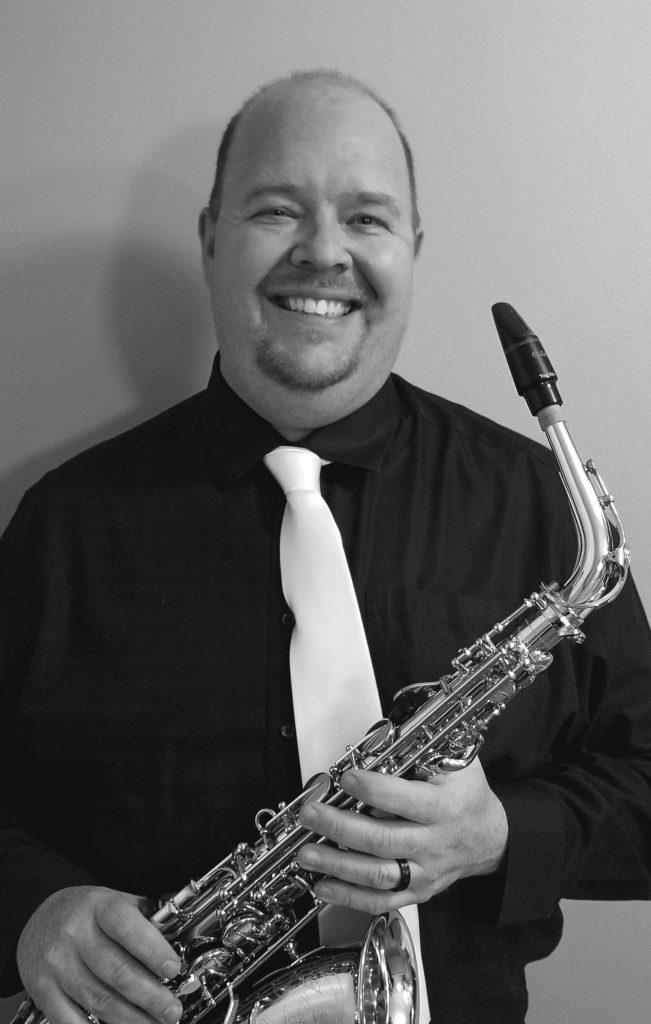 As a diverse multi-instrumentalist, Bryan is an active professional woodwind performer all over B.C.'s Lower Mainland. He received his Bachelor of Music from the University of British Columbia and his Masters in Music from the University of Calgary. In addition to performance, Bryan is an available clinician or adjudicator for woodwind players and students in all musical settings. In addition to a busy performance schedule, Bryan is also the Director and General Manager of Theo Wanne Distribution – an international specialist in saxophone mouthpieces and accessories.
Jessica McLaughlin: Alto Sax II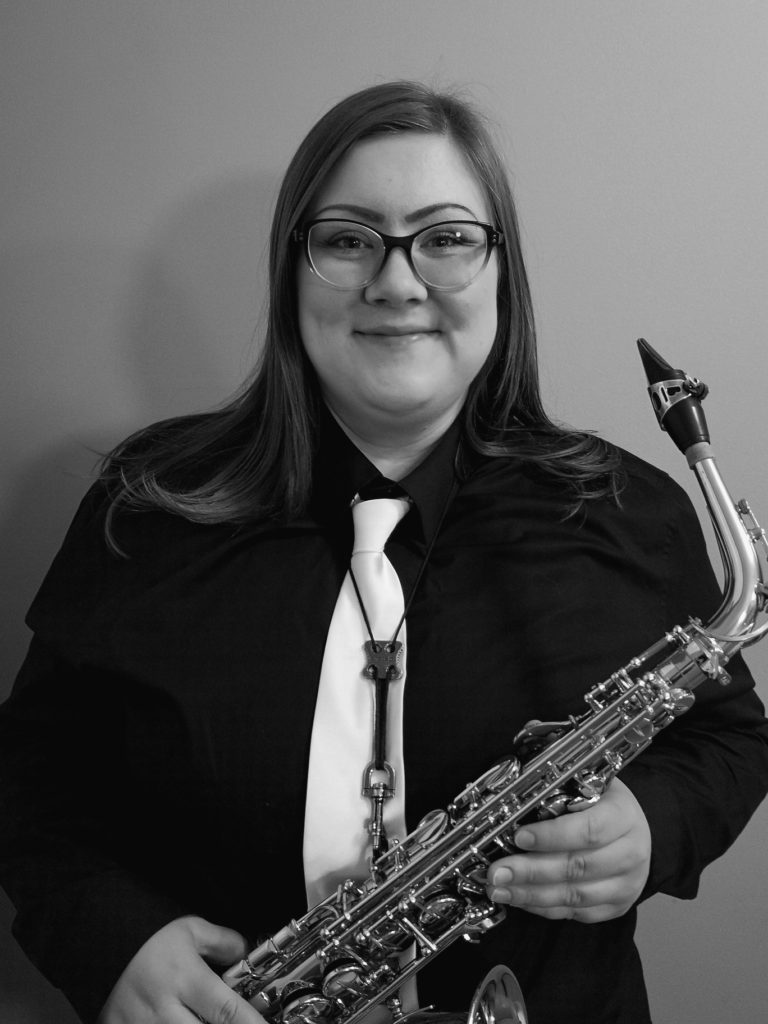 Jessica McLaughlin was born in Vancouver, B.C. and grew up in the Lower Mainland. Starting on piano at age 5, she began to develop her interest in music and performance. Jessica continued this interest, adding clarinet and voice to her musical endeavors. After hearing a big band play for the first time, she discovered the saxophone. Starting on tenor, she played in jazz band and a jazz combo throughout high school while completing the honours and International Baccalaureate Programme, graduating with honours. She received a Diploma in Music at Kwantlen Polytechnic University in Langley, British Columbia in April 2011. In March of 2012 she received 2 gold certificates at the Kiwanis Music Festival in Calgary, Alberta for solo performance and in June 2014 she received a Bachelor of Music degree in Performance from the University of Calgary under the instruction of Dr. Jeremy Brown. She has performed with a variety of groups such as the UCalgary Jazz Orchestra, University of Calgary Wind Ensemble, Calgary Concert Band, Kwantlen Wind Symphony, Fraser Valley Wind Ensemble, University of Victoria Wind Symphony, UCalgary Operetta Company, Royal City Musical Theatre Company, and the Bruce James Orchestra. Jessica is currently teaching and performing in the Lower Mainland.
Mark Follett: Tenor Sax I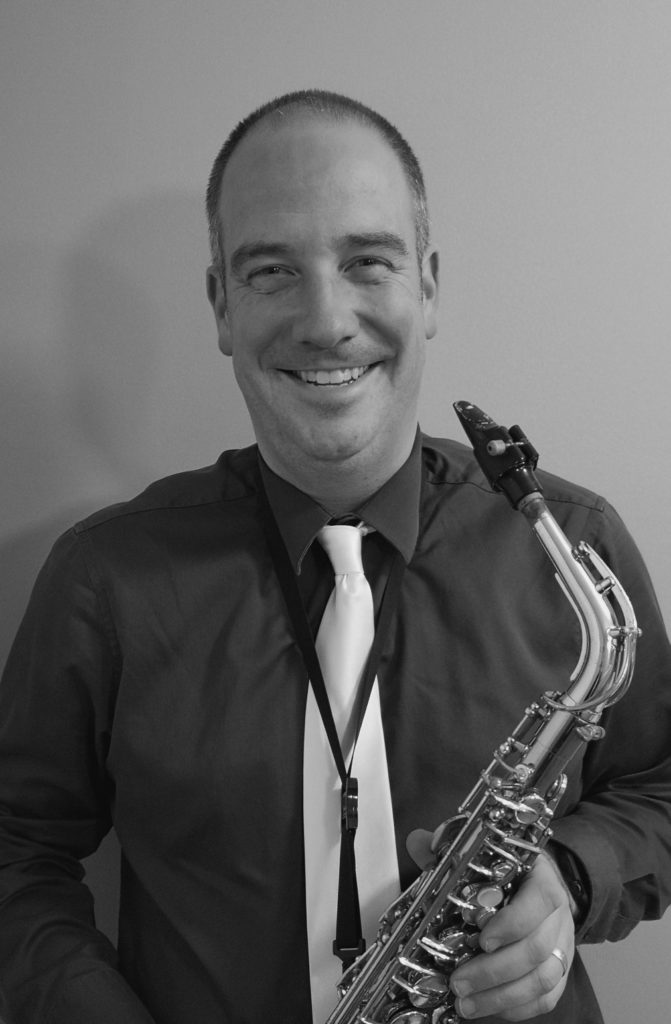 While working a day job as a band teacher at D.W.Poppy Secondary, being a husband, and a father to very busy young boys, Mark still finds time to play an exceptional saxophone! Mark is an avid musician in the Fraser Valley / Lower Mainland and loves a multitude of music. Versed in orchestral, wind symphony, chamber ensemble, R&B, combos and Big Bands, Mark enjoys playing it all. Open to performance opportunities (as availability permits), Mark is available for hire to fill your musical needs.
Ashley Trimble: Tenor Sax II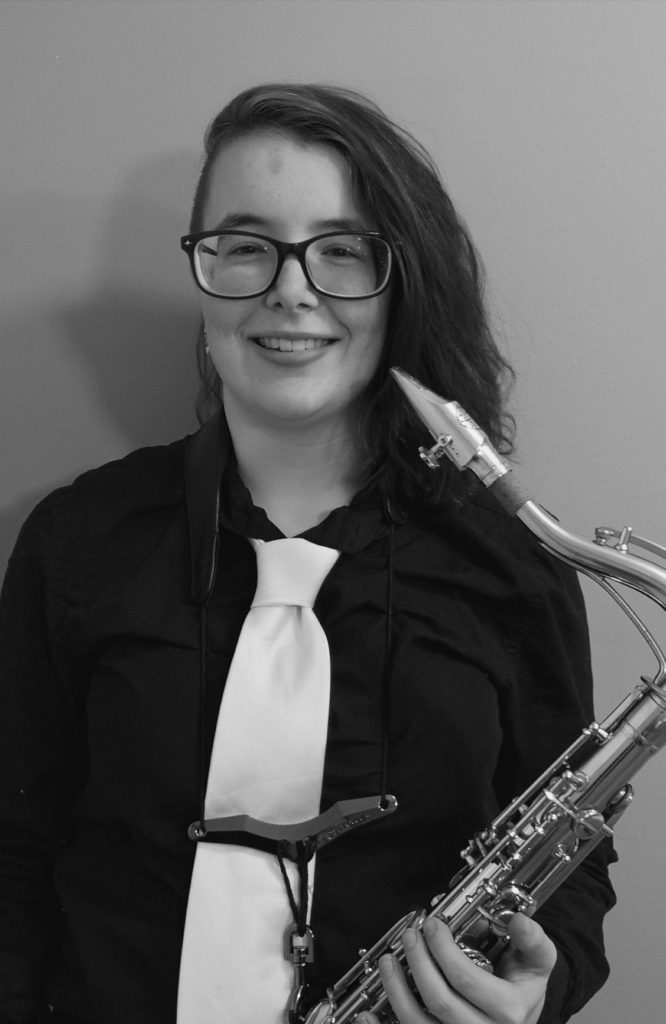 Hailing from Mission, B.C., Ashley is a woodwind player in the Fraser-Valley/Lower-Mainland areas. Currently pursuing a Bachelor of Music degree at Kwantlen Polytechnic University as a saxophone major under the tutelage of Julia Nolan, Ashley is an avid performer. She is versed in wind symphony, jazz combos, pit orchestras, and of course – big band! Ashley is pleased to be performing with the Bruce James Orchestra.
Chris Goetz: Baritone Sax
Chris started on the saxophone in the Coquitlam school music program – first on Alto, but then switching to a horn with less competition. Upon graduation Chris toured Europe playing with Canadian Youth on Tour (under the leadership of the late, great Keith Mann) where he was voted 'band member who most resembles his horn'. That fall Chris joined the New Westminster and District Concert Band where he would play in the senior band for the next ten years, honing such skills as sight reading, playing in an ensemble, and tuning in a school gym.
Chris works his day job as a lab instructor for BCIT teaching Instrumentation, which he found out (too late) has nothing to do with music. Chris is an original member of the Bruce James Orchestra and his favorite experience with the band was fulfilling a musical dream by buzzing in at the Commodore and simply stating – "I'm with the band" #BigBandMusicianAspirations 🙂