Special guests of the Bruce James Orchestra
Benny & the Good Men – LIVE at Pitt Meadows' Spirit Square –
Wednesday, July 27, 2016 7:00PM
Traditional jazz served red hot!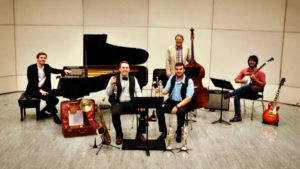 Keeping the musical traditions of the roaring twenties-and earlier-alive, Benny & the Good Men serves as a tribute to the early traditional jazz of Chicago and New Orleans that flourished prior to the Swing Era of the 1930's. Under the direction of veteran Dixieland reedsman Benjamin MacRae, the band strives to produce an authentic sound that hearkens to the great bands of Louis Armstrong, Bix Beiderbecke, Edmund Hall, and Sidney Bechet that the influential clarinetist Benny Goodman would have grown up listening too during the jazz era, and the tail end of the age of vaudeville.
The band consists of Robert Crews on guitar/banjo, Jonathan Baylis on double-bass, Strauss Whiteside on piano, Michael Radnai on trumpet/cornet, and Benjamin MacRae on reeds/washboard, with all of the Good Men being able crooners. If you're looking for a roaring rhythm section, hot jazz, and good time, Benny & the Good Men delivers a show that will leave you tapping your feet and humming excerpts from the performance.
Benny & the Good Men is available for hire for a variety of events including; private events (house-parties, birthdays, backyard events, etc.), corporate functions, weddings and other life milestones, public events (parties, business openings, promotions etc.), jazz/music festivals, dances and restaurants. Contact Benjamin MacRae via cellphone (1) 604.997.1643, or email macraemusicalservices@gmail.com for bookings, quotations and general enquiries.