The Bruce James Orchestra was recently privileged to perform  at two very important functions: The Maple Ridge Bandstand Birthday Bash celebrating the the 20th birthday of the Maple Ridge Bandstand, and for Mr. & Mrs. Alex and Amanda Angus' vintage themed wedding  – both on June 14, 2014.
The bandstand birthday bash ran 9:30AM-8:00PM on Saturday June 14, 2014. Various musical groups from all over the lower mainland participated. The Bandstand was re-dedicated to the city, and various members of the political community were present to help celebrate this community gathering place. The Bruce James Orchestra was the headliner group for this event.
Congratulations to the Maple Ridge Concert Band for organizing this fabulous community event! www.mrcb.ca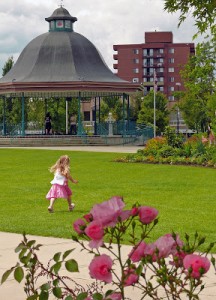 In addition to musical performances, there was even a wedding held during the bandstand birthday festivities: that of Amanda Rohl and Alex Angus. See their wedding story here: www.mapleridgenews.com/news/251009901.html
After the ceremony and after the bandstand set, the BJO made their way to the Rohl/Angus wedding reception to perform.
This wedding was a wonderful celebration, but also important to the band as Amanda Angus (neé Rohl) is one of our members! The dance floor was hot, the band sounded great, and the bride and groom looked stunning. Congratulations to the newlyweds. Best wishes for a very happy life together filled with love, laughter, and of course – music!