When:
November 4, 2018 @ 2:00 pm – 4:30 pm
2018-11-04T14:00:00-08:00
2018-11-04T16:30:00-08:00
Where:
Terry Fox Theatre
1260 Riverwood Gate
Port Coquitlam, BC V3B 7Z5
Canada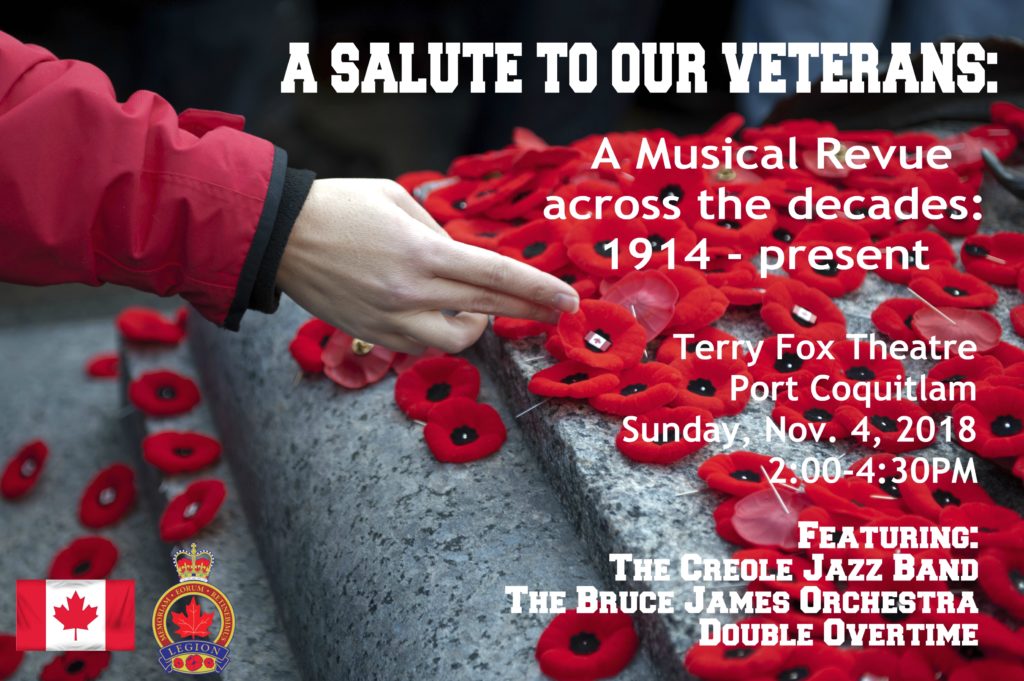 2018 marks the 100th anniversary of the signing of the Armistice after WWI.Our ensembles pay musical tribute to the dedication and sacrifice of our veterans, active service persons and peacekeepers across the globe as we once again find ourselves in a season of Remembrance.
Featuring live music from
The Creole Jazz Band
Double Overtime and the
Bruce James Orchestra Vancouver Big Band,
We will take you through a musical journey performing music from the times of WWI, WWII, Vietnam, Korean, Gulf War, Afghanistan, and from the present day for the current on-going peacekeeping missions Canada undertakes world wide.
Tickets Available soon!
$20 – Adults
$10 – Children under 18
We look forward to seeing you there!