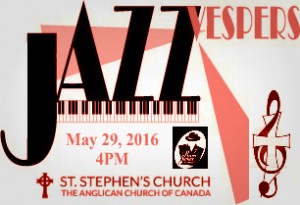 Join in worship backed by wonderful Jazz!
Congregate, communicate, and celebrate faith, community and crooners on Sunday, May 29, 2016 – 4:00-5:30PM.
The Bruce James Orchestra will be performing for a special Jazz Vespers service at St. Stephen's Anglican Church in West Vancouver, B.C.
All are welcome. Admission by donation.
More info: http://www.ststephenschurch.ca/